CHOOSE YOUR OWN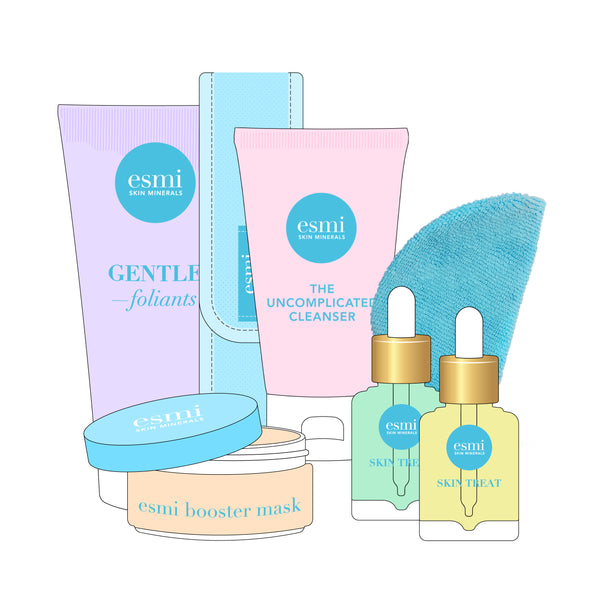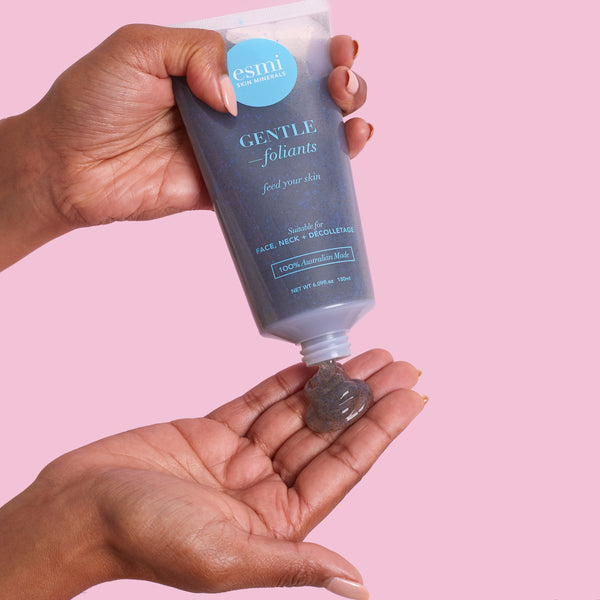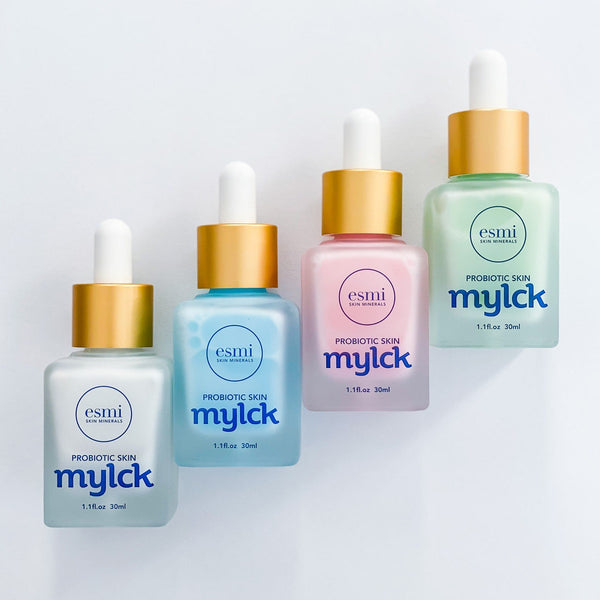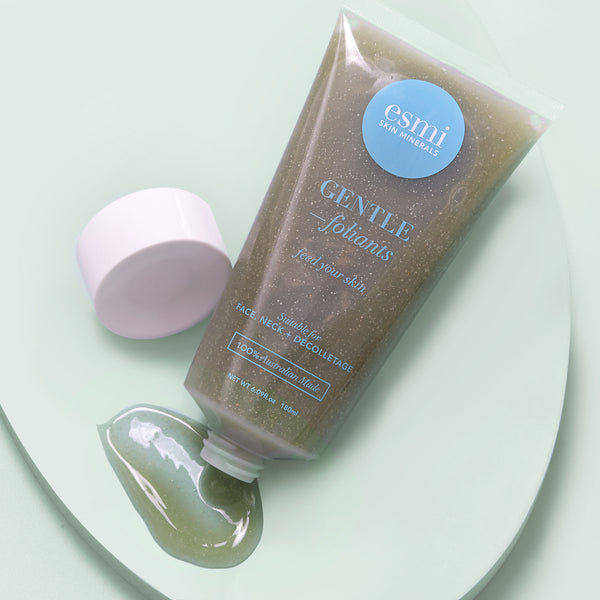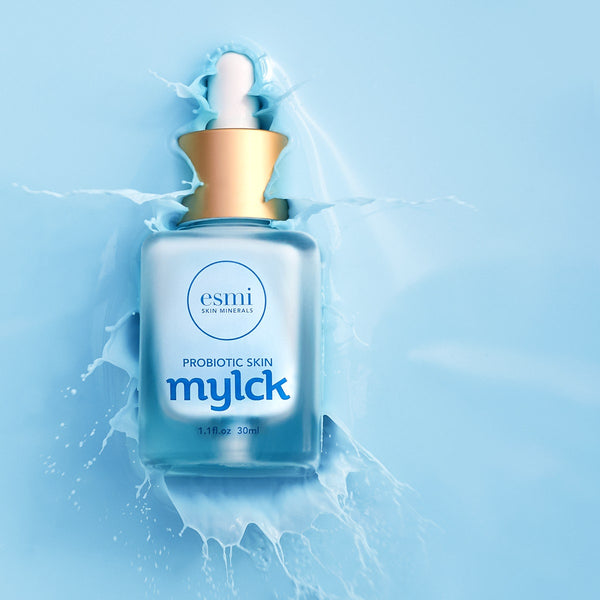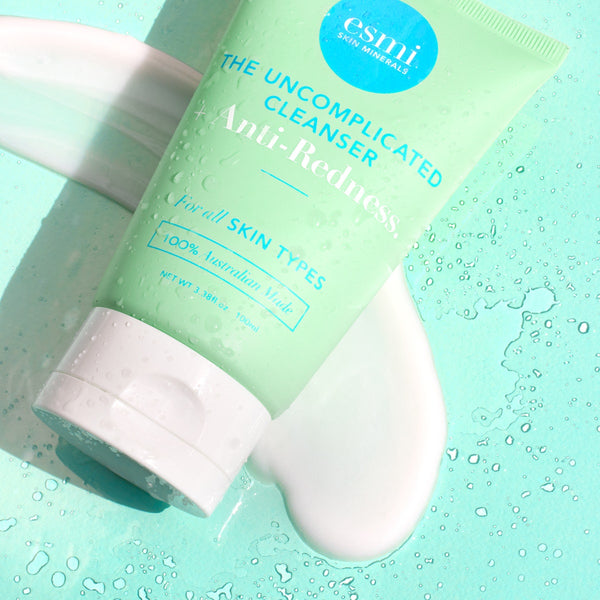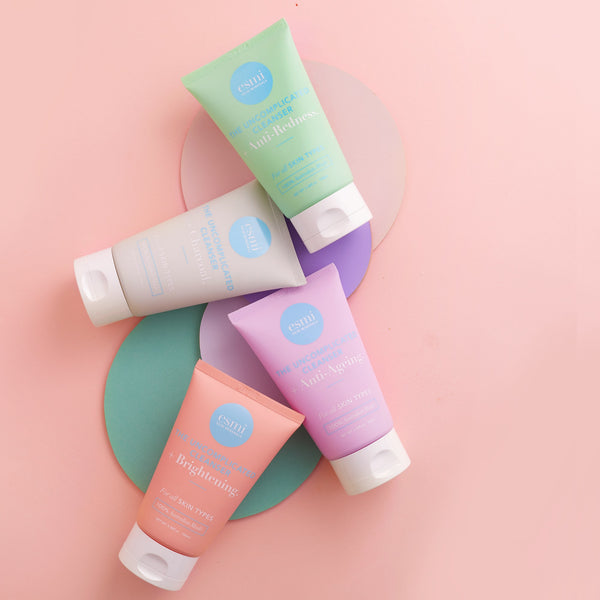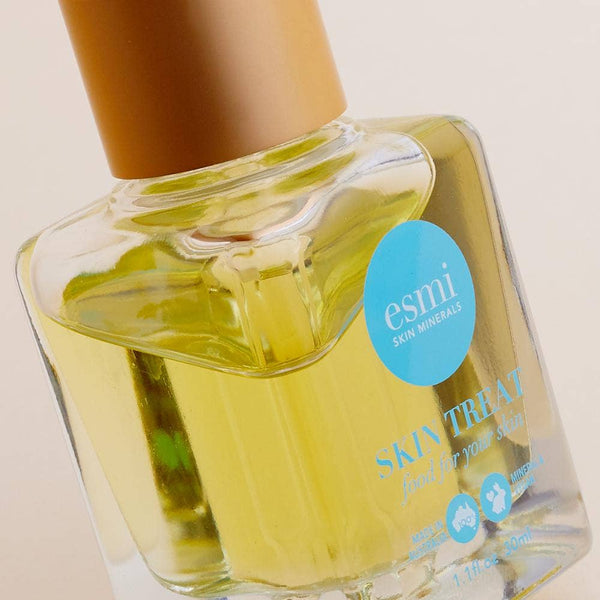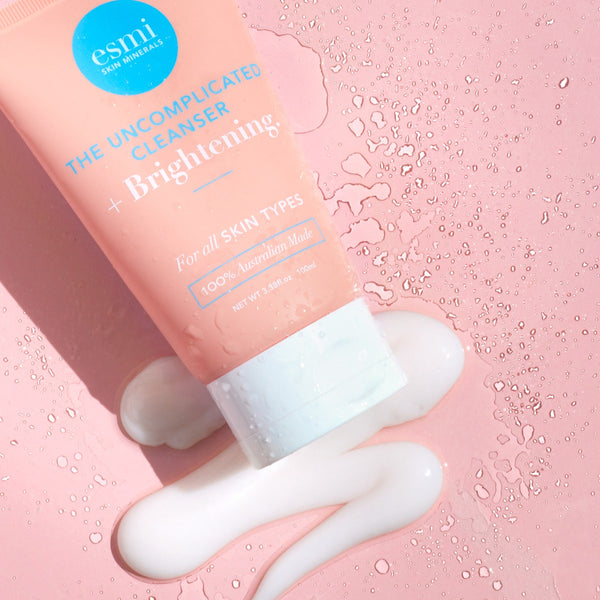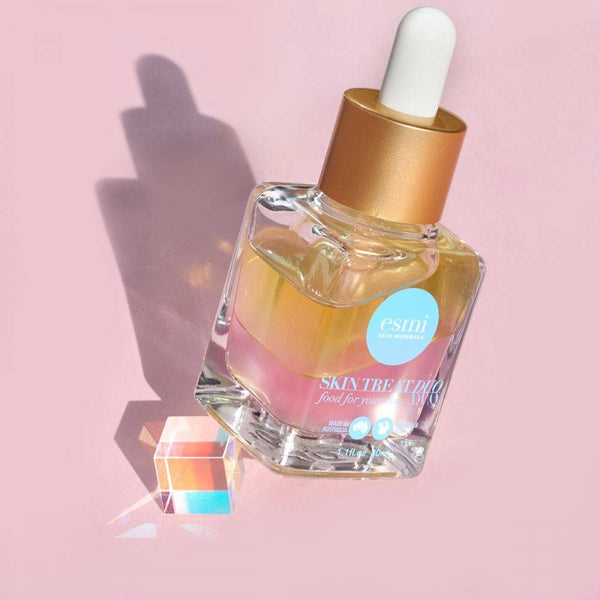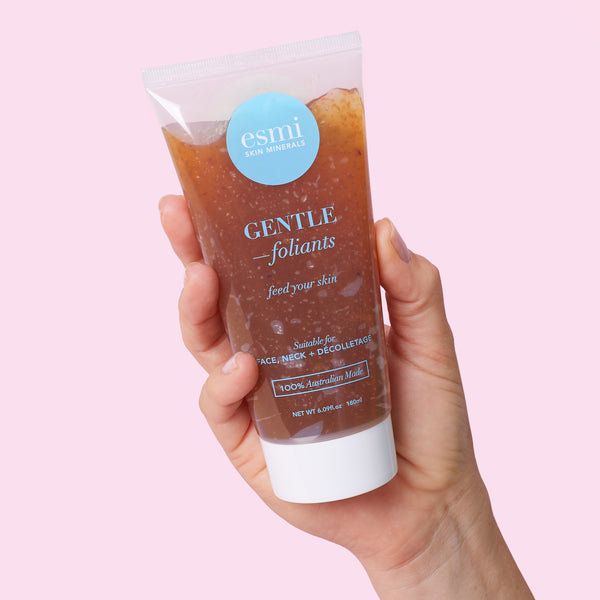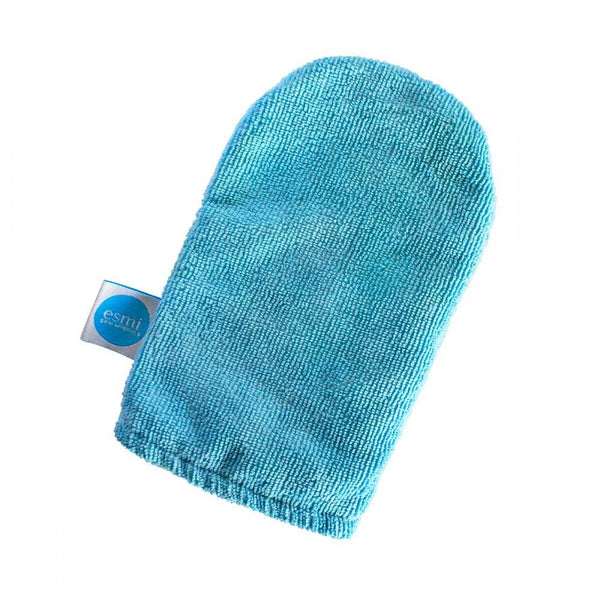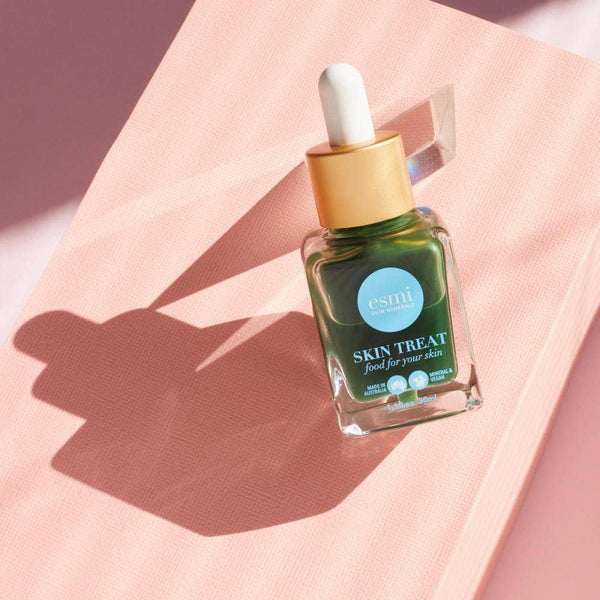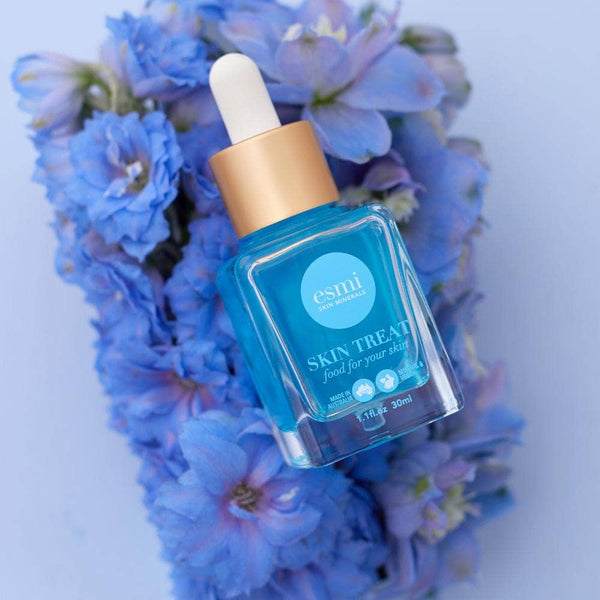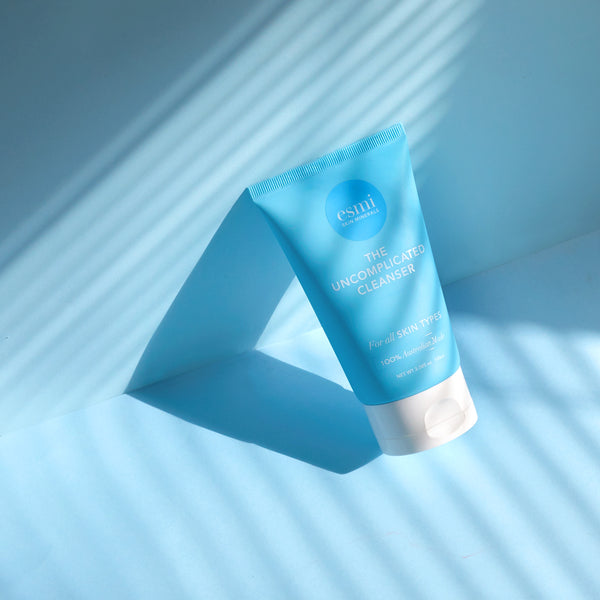 Self Care Kit
Take a break and treat yourself to some TLC with our Self Care Kit!
Contains Natural and Plant Derived ingredients
Safe during pregnancy & breastfeeding
Treat yourself at home with your very own esmi Self Care Kit! Choose the products for your set to suit your skin concerns.
Includes:
Your Choice of Cleanser
A cream cleanser is a gentle yet effective face cleanser for all skin types, especially dry, irritated, and sensitive skin. With a thicker, creamy texture a cream facial cleanser is formulated plant-based oils and natural ingredients to promote hydration. This helps skin retain a healthy oil/moisture balance while cleansing. Unlike many gel-based or foaming cleansers, a cream cleanser won't strip the skin of oil and moisture or leave it tight and dry post-cleanse - signs your face cleanser is too harsh.
Your Choice of 2 x Skin Treats
Skin Treat Serums
Formulated with a high concentration of natural and plant-based active ingredients, serums target specific skin concerns such as hyperpigmentation or dehydration. They have the ability to penetrate more rapidly and deeply into the skin than face oils or cream- based moisturisers.
Skin Treat Face Oils
A blend of natural oils containing antioxidants, vitamins, and essential fatty acids, face oils work on the surface of the skin to condition the skin barrier and improve hydration.
Skin Treat Duos
esmi Duos combine the intensity of a water-based serum and moisturising benefits of an oil. It's easy to give your skin the benefits of a face oil and serum in one simple step.
Each product is designed to address specific concerns so you can mix and match a serum and an oil. Or, choose a Duo which combines both.
Skin Mylcks
Probiotics are hugely beneficial in skin care. Inflamed, damaged and ultra sensitive skin meets the calming and restorative powers of good bacteria.
We believe our range is the best probiotic skin care in Australia. We are the first skincare brand to use 100% Australian made probiotics produced in an Australian cGMP/TGA approved laboratory.
Probiotic Lysates have been carefully researched and selected as the probiotic ideal for skin application. The good bacteria in the esmi Skin Mylck creates the ideal environment for your skin to heal and thrive while helping to balance its delicate microflora. This Lysate can aid in strengthening the skin barrier against outside irritants, pathogens that can often trouble sensitive complexions.
Your Choice of Gentle-Foliant
A Gentle-foliant is unique to esmi. esmi believes in treating our skin with kindness and avoiding harsh, stripping ingredients and products to achieve a happy and balanced skin. Once the Gentle-Foliant is applied to cleansed skin the enzymes go to work, after a few minutes you can then lightly move the physical element around the skin to loosen the dead skin.
The natural physical exfoliating elements in Gentle-Foliants are ocean friendly and found in nature.
Achieve an extra close exfoliation with added enzymes in each Gentle-Foliant. Enzymes work by breaking down dead skin resulting in smoother skin without being harsh.
Your Choice of Booster Mask
Clay, gel, and cream face mask treatments for brightening, hydrating, acne control, detoxing, soothing and anti-ageing.
Our range of vegan and cruelty free face masks are formulated with hard working active ingredients plus Australian native and natural extracts to suit a range of skin types and concerns.
Each mask is designed to leave on for a quick 10 minute masking session or overnight for an intensive treatment. Enjoy a mess free application with the Mask Applicator Brush!
Mitt
Microfibre mitt removes 80% more dirt, makeup and product residue than a regular face washer for deeply cleansed pores and soft skin. Ideal for all skin types to use with the esmi Uncomplicated Cleanser or after an esmi Booster Mask to sweep away all residue.
esmi Microfibre Headband
Keep your hair dry and free from product with our handy microfibre headband. Your must-have accessory for daily skincare routines, at home facials and for applying your makeup.
What will the cost of shipping be?
All orders receive complimentary standard shipping - no minimum spend! Your order will be sent using Australia Post or DHL and can be tracked. Need your order asap? We have express shipping options available for you for a small fee. For more shipping info click here.

When will my order be sent?
Orders received by 3:00pm, Monday to Friday, will be dispatched the same day! Please note that there may be slight delays in shipping at times of high volume orders. Please also consider public holidays when checking the shipping method. If you have any concerns or questions regarding your order please don't hesitate to contact us.

Can I return the product?
We hope that you will be delighted with your order, however, we do accept returns and are happy to offer you a store credit or exchange. You'll just need to:
1. Contact us within 14 days of receiving the product and
2. Return the item unused and in original, unopened and undamaged condition.
Are these products right for you?
Chat to one of our qualified beauty therapists to find out if these products will suit your skin, and get a personalised skin care routine.
How to use
How to:
Move hair out of face and securely keep it dry. Place the Microfibre Headband around the crown of your head and fasten with the easy-to-use velcro closure.
Apply a pearl-sized amount of cleanser to damp hands and massage gently into skin with an upward motion. Rinse thoroughly with lukewarm water and the Microfibre Facial Cleansing Mitt. The cleanser perfectly preps skin to maximise the potency of other skincare.
Use masks and Gentle-foliants sparingly throughout the week, not every night.
Gentle Foliant: Apply a pea-sized amount of your Gentle-foliant to damp, cleansed skin. In small, circular motions, very gently apply the exfoliant to skin. Massage around your face to remove build-up and allow enzymes to deeply cleanse pores. Don't apply too much pressure. Leave on for 2-5 minutes and rinse with cool water.
Mask: Apply generously to a cleansed face with fingers or mask brush while avoiding the eye area. When ready to wash off, gently massage the face with damp hands to promote circulation. Rinse well or remove with the mitt.
Skin Treats: After the use of cleanser, gentle-foliant or a face mask, follow your routine with your favourite Skin Treat - including esmi's serums, duos and mylcks. Seal the moisture in with an oil and/or Moisturiser.
Total 5 star reviews: 6
Total 4 star reviews: 0
Total 3 star reviews: 0
Total 2 star reviews: 0
Total 1 star reviews: 0
100%
would recommend this product
What is your main skin concern?

Fine Lines & Wrinkles

Skin Type

Combination (Oily & Dry)

Great basic kit!

Has all the products you need for a great skin care routine.

What is your main skin concern?

Breakouts

Skin Type

Combination (Oily & Dry)

5 Stars

Bought this as an introduction for Esmi. Absolutely in love with this brand! Have been back for more since

5 Stars

Love this bundle! Have just ordered a second to mix the products around. Great value!

What is your main skin concern?

Fine Lines & Wrinkles

Skin Type

Combination (Oily & Dry)

5 Stars

Bought this as a gift for my husband! Has loves it, especially the gentle foliant and the mask. Great starter pack for anyone starting out with Esmi.

5 Stars

The Self Care Kit has been the PERFECT fit for my skin care routine! I've recently been suffering form hormonal breakouts and I've really noticed a different since using the kit! This has been such a game changer for me and made me feel so much more confident. I always had clear skin before so I'm glad I've found products which work for me and are helping to get my skin back to it's glowing clear self!
Reviews Loaded
Reviews Added